Greetings Commanders!
This week, after yesterday's fantastic news that the Beta for The Engineers (2.1) and Elite Dangerous 1.6 will ship in the week ending 8 May, we're kicking off our 'Countdown to Beta' newsletters, with two more examples of Experimental Modifications from The Engineers, and highlighting enhanced starport outfitting, new weapons and drives, points of interest and much more.
As always, you can hear the latest news and updates directly from the development team on our Forums, Twitter, Facebook, Community Homepage, and right here in the newsletter every week, and we're always eager to hear your feedback. 
Pick up the Elite Dangerous: Horizons Season Pass today for £24.99, €33.99 or $37.99.
---
Contents
Countdown to Beta – Part 1
Engineer Archive – Experimental Modifications 2
On the Horizon – Countdown to The Engineers Beta Livestream: Part 1
The Danger Zone – Xbox One Special CQC and Xbox One Updates
GalNet Focus
Reddit AMA Series
CG Update
Comms Chatter
---
Countdown to Beta – Part 1
"The release of update 2.1 The Engineers and update 1.6 is one of our biggest – the change log is huge! Many of the changes work in combination with other changes, resulting in an even more impactful whole. As we approach the Beta over the next few weeks I'll be highlighting some of the changes and additions coming in both releases. As well as adding new features and content we've also been able to improve existing aspects of the game. For me, this is one of the exciting parts of our ongoing deliveries; the ability to keep adapting and creating the game and the galaxy it inhabits!"
Michael Brookes
Executive Producer
Enhanced Starport Outfitting
With the changes to weapons and modules coming with the Loot and Crafting features available to Commanders with The Engineers (2.1), all Starports in both 2.1 AND 1.6 have revamped Outfitting screens, improving the process of buying and fitting new items to your ships and offering an easier route to further, as yet unannounced, module additions. Click the image to enlarge.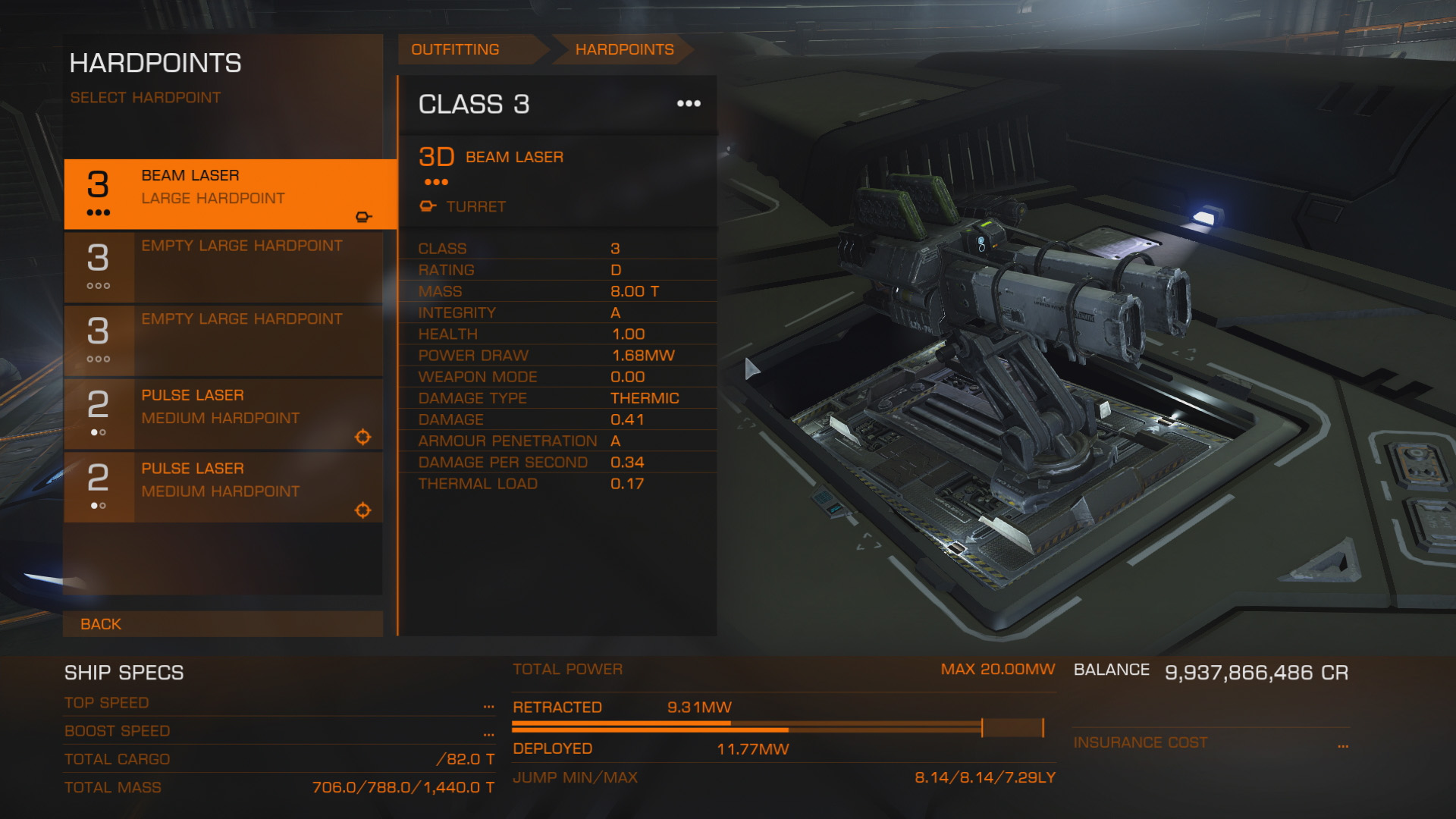 This extensive overhaul provides module filtering and easier access to relevant data on the Starport services screens for the busy Commander, as well preserving the ability to drilling to the deepest level of statistics for all weapons and modules. Click the image to enlarge.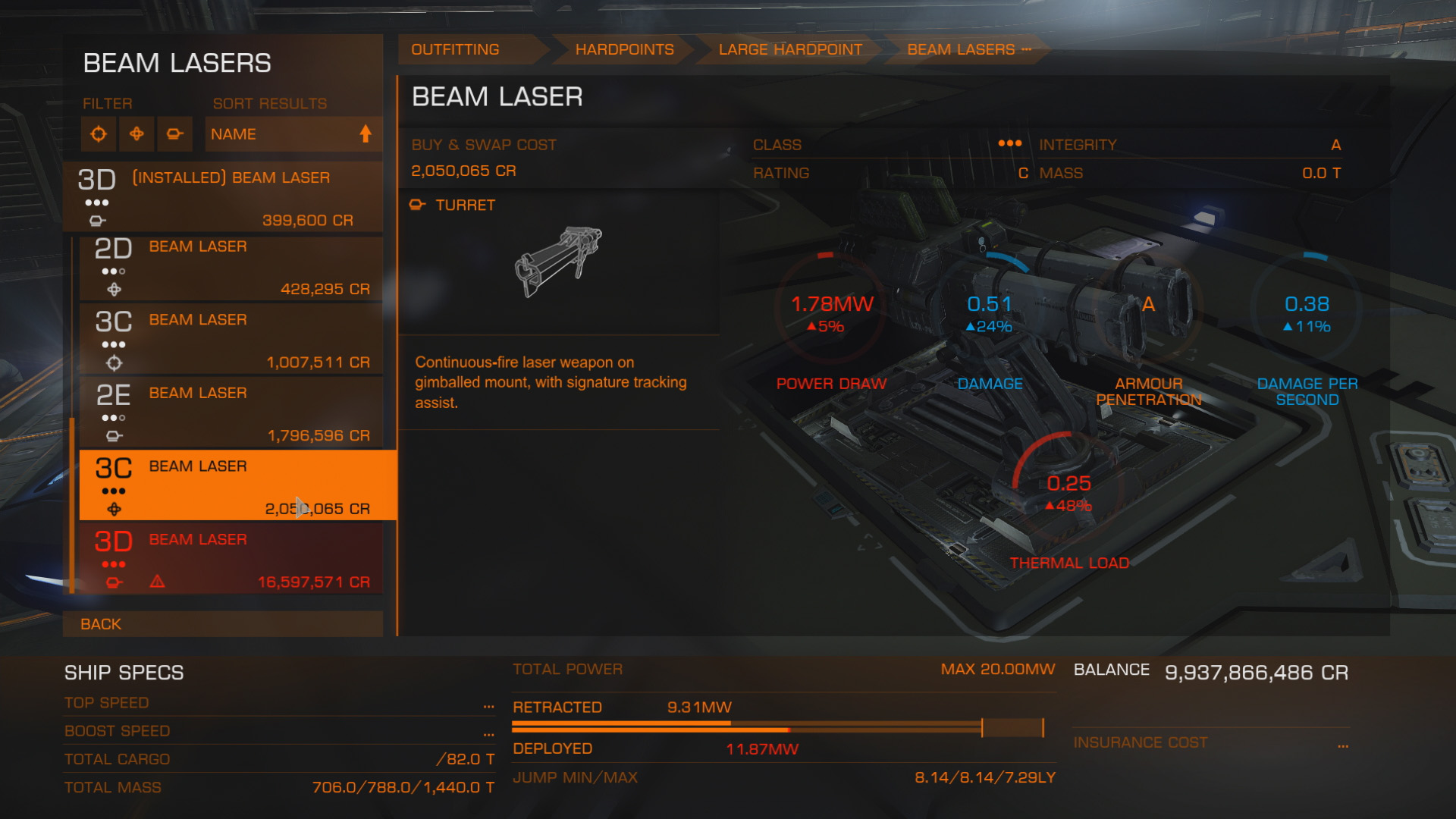 All such data is also now presented in a more legible format for Commanders using VR, and the opportunity has been used to give a more aesthetically pleasing layout for those Commanders not using VR. Click the image to enlarge.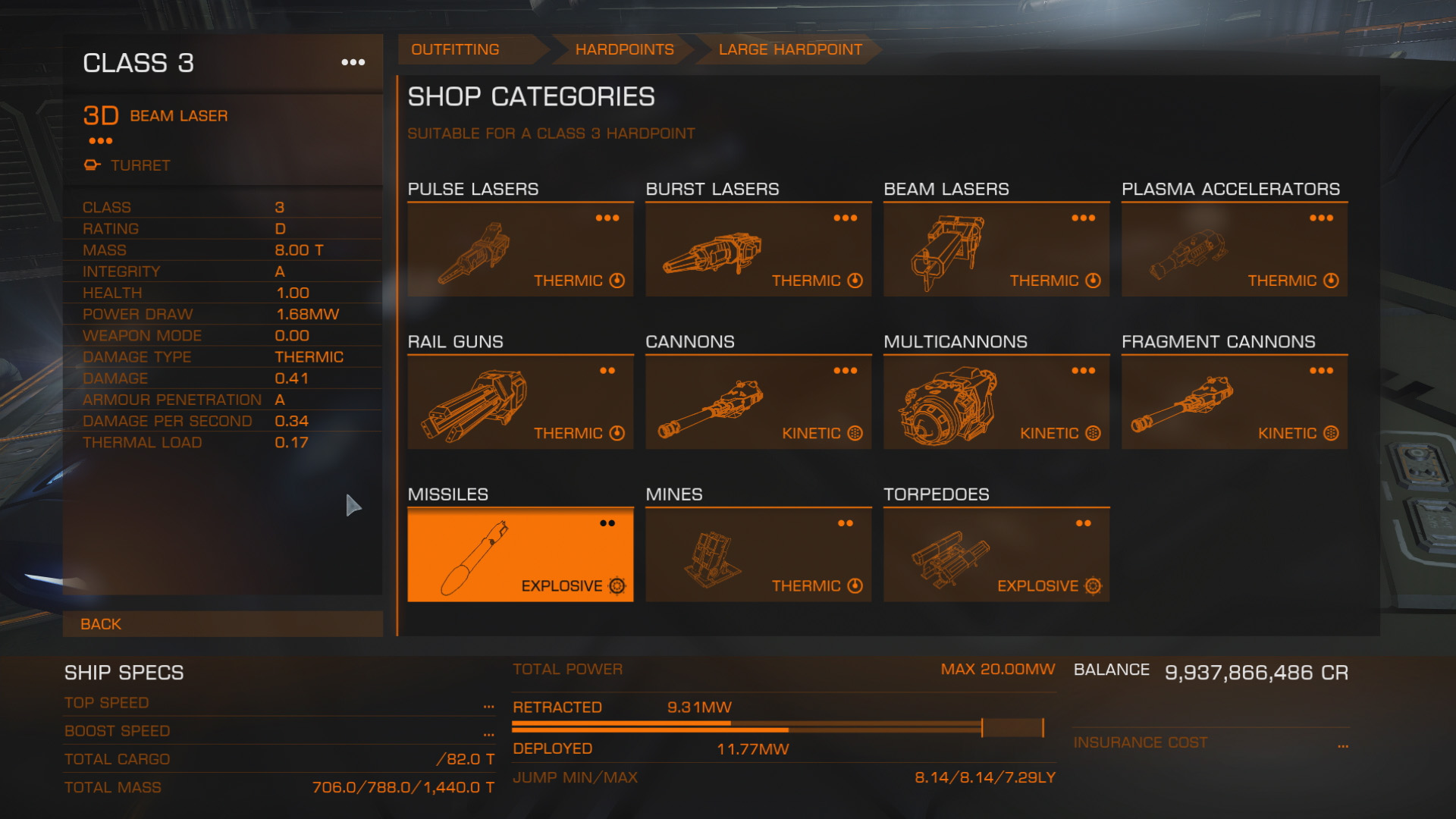 New Weapons and Drives
As mentioned in previous newsletters, by popular demand the weapon factories of various manufacturers have released new classes of large and huge weapons, including:
•Huge Beam Laser
•Huge Pulse Laser
•Huge Multi-Cannon
•Large Multi-Cannon
The clue is in the name, and needless to say, these pack a punch!  They are available on both fixed and gimballed mounts to suit Commanders' preferences.
For those using smaller ships, in particular the Sidewinder, Faulcon de Lacey have introduced performance enhanced size 2 and 3 drives. Incredible fun for racing, they also give Commanders an extra bit of zip that can make all the difference in a dangerous encounter.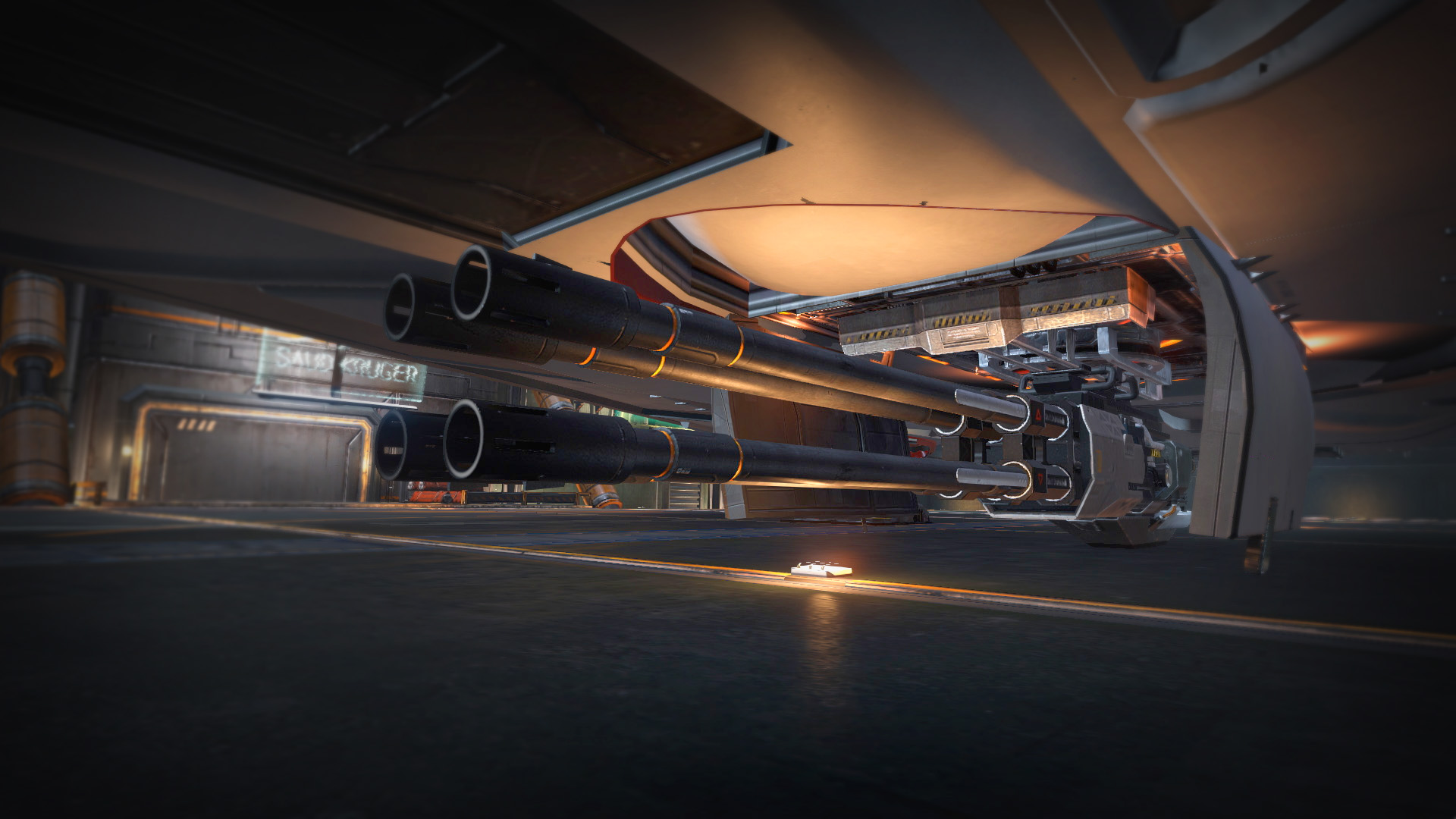 Enhanced System States Feed on Galaxy Map
Many Commanders have their favourite systems and work hard within them, so they are usually already aware of the local situation.
For Commanders who prefer to roam the galaxy looking for wars, the Pilots Federation has upgraded the GalNet system, so Commanders using 2.1 AND 1.6 will have a 'state' filter in the galaxy map which will highlight if a system is at war, or suffering a famine, or some other situation Commanders want information about.
As well as making it easier to locate systems that are in particular states, all Commanders will also find the state of a system has a more direct impact on its factions and markets. Click the image below to enlarge.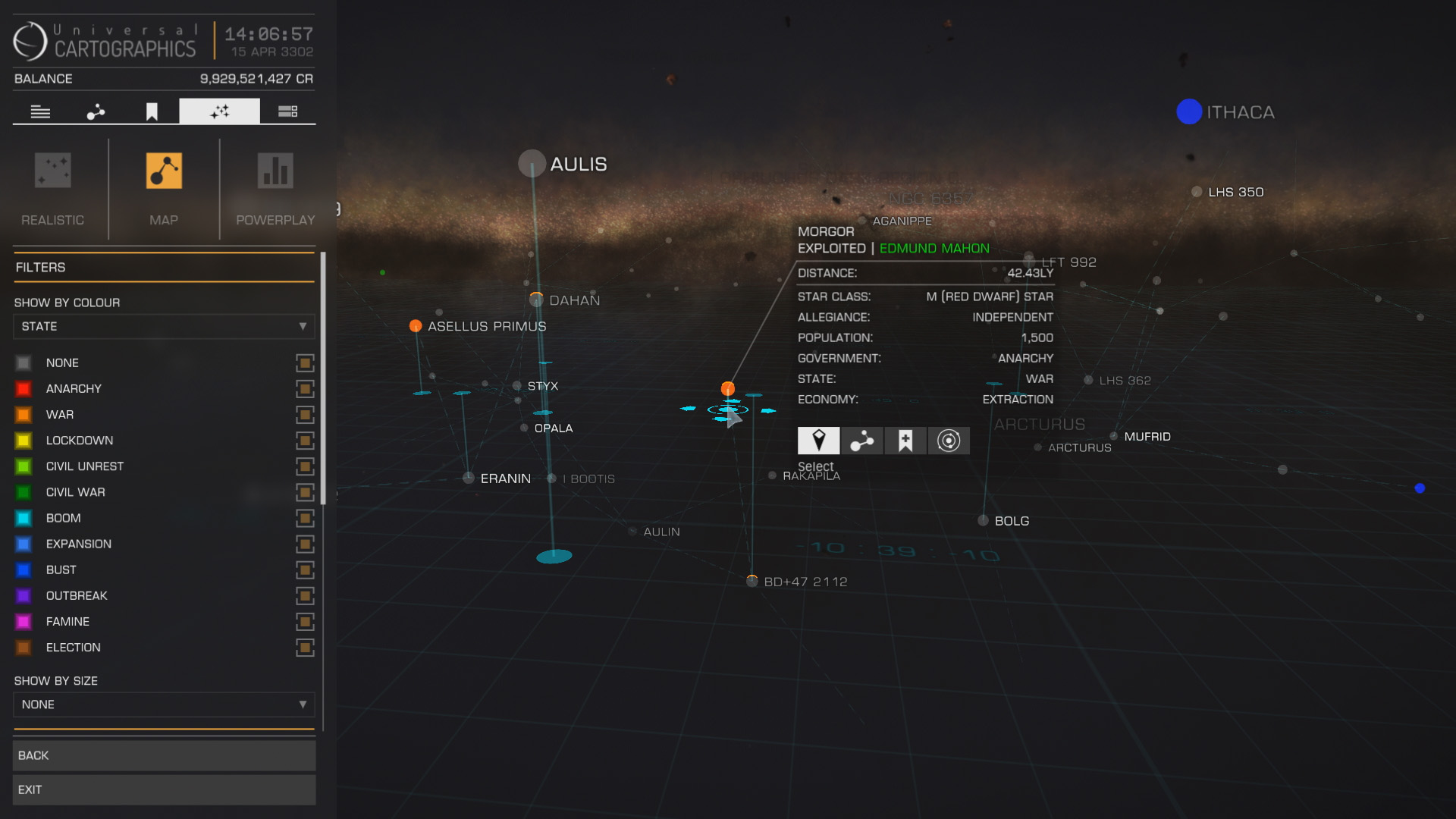 More Surface Encounters
Points of Interest (POIs) are encounters that Horizons players can discover upon the surfaces of planets and moons. The Engineers update adds new types of POIs to be discovered, and so new things that can happen on the surface, and others have been improved – including being guarded by low-flying ships. Also, human-created POIs will also not be encountered as far out from human space as they are at the moment.
The in-game, unedited, images below show a Diamondback wrecked on a planet surface. This is just one example of the new POIs you will encounter.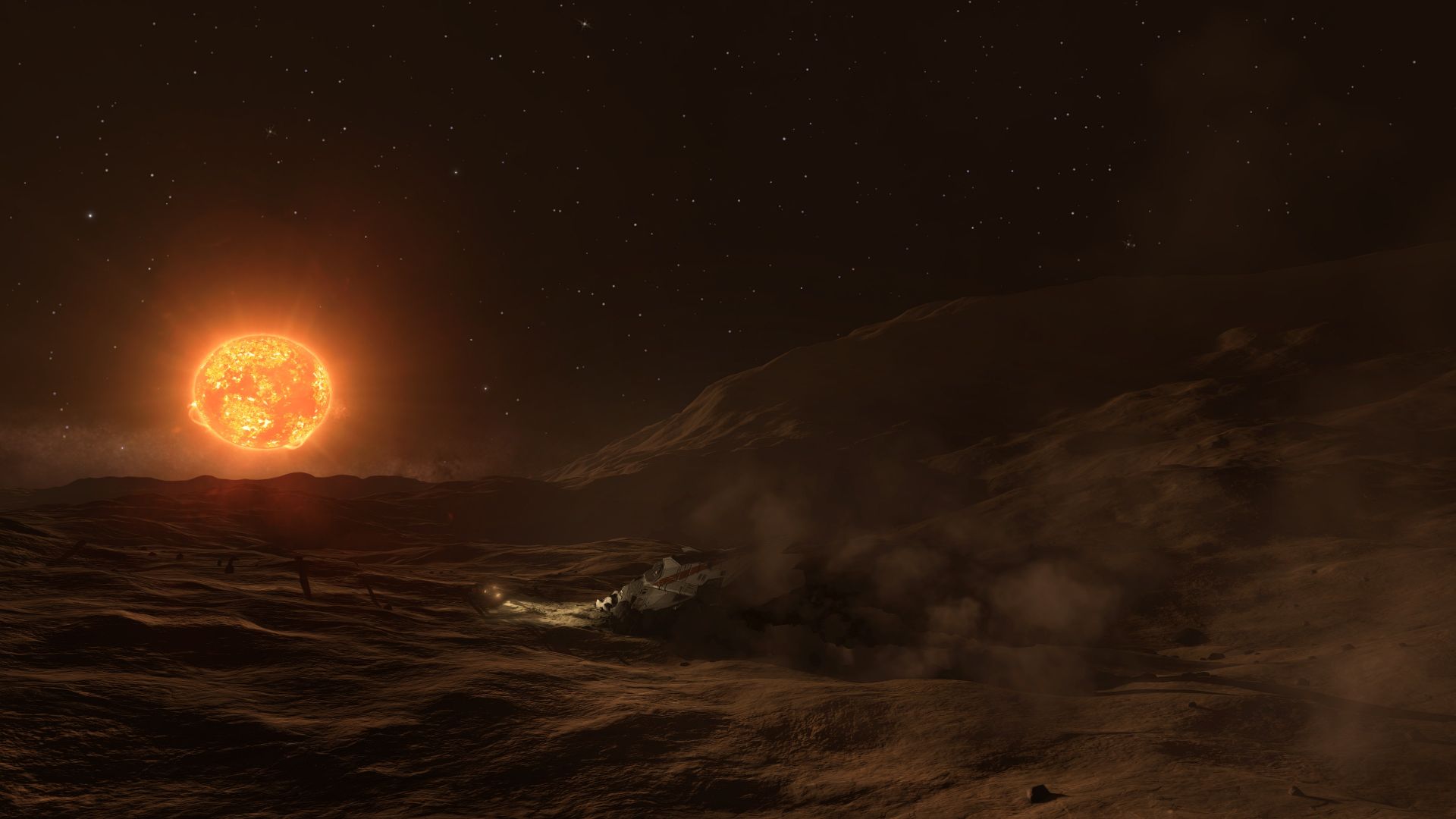 There's also been a major re-vamp of Unidentified Signal Sources (USSs). Some are related to specific Missions in both 2.1 AND 1.6, so Commanders will need to seek specific locations using the discovery scanner, or by scanning the nav beacon (if the system has one). Scanning a nav beacon will give Commanders the exploration data for the system (if you don't already have it).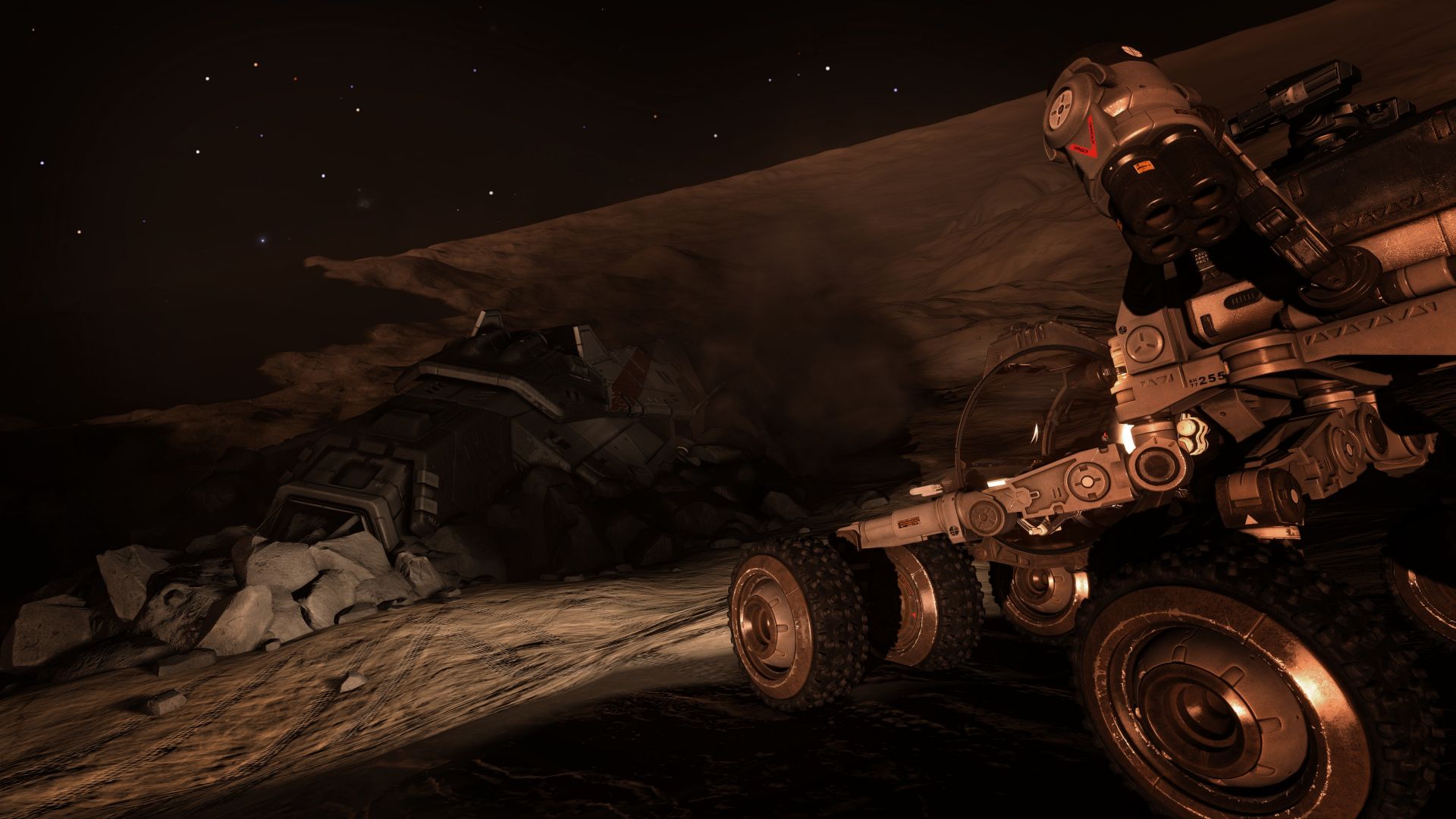 In addition, a breakthrough in sensor technology, will be rolled out across all Pilots Federation ships as one of the many membership benefits, allows USSs to be scanned while in supercruise, so Commanders can make a better-informed judgement of whether to get involved or not.
Enhanced NPCs
NPC behaviour will be receiving a large number of changes for both 2.1 and 1.6 Commanders. We've include a vast number of fixes and changes to NPC AI, addressing previous feedback from the community as well as improving high-ranked NPC pilot's effectiveness in combat. In addition these changes will mean that Commanders in The Engineers (2.1) can expect to experience an increased level of activity near to planetary surfaces. You'll see much more traffic flying between ports, or patrolling around bases, and as I've mentioned, some settlements have been spotted with defending ships, making strafing them a riskier business!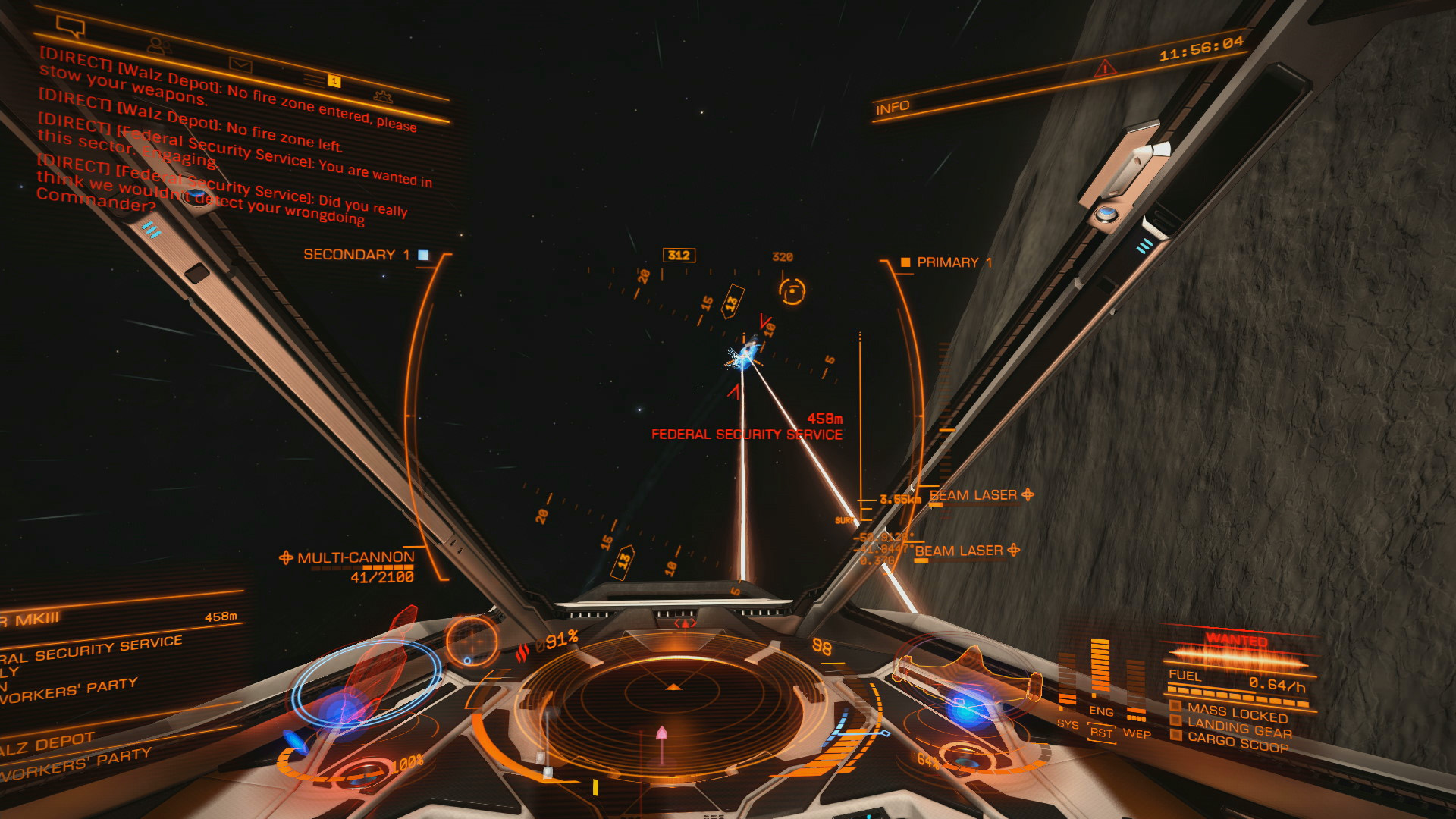 ---
Engineer Archive – Experimental Modifications 2
The Engineers (2.1) is the next huge update in the Elite Dangerous: Horizons season of expansions, which adds Loot and Crafting, the Engineers themselves and other tweaks that add a new dynamic to the way you approach every aspect of Elite Dangerous. Improve and upgrade the stats on every module of your ship, and add rare, experimental effects to your weapons. 
You can pick up Elite Dangerous: Horizons now by visiting the Frontier Store.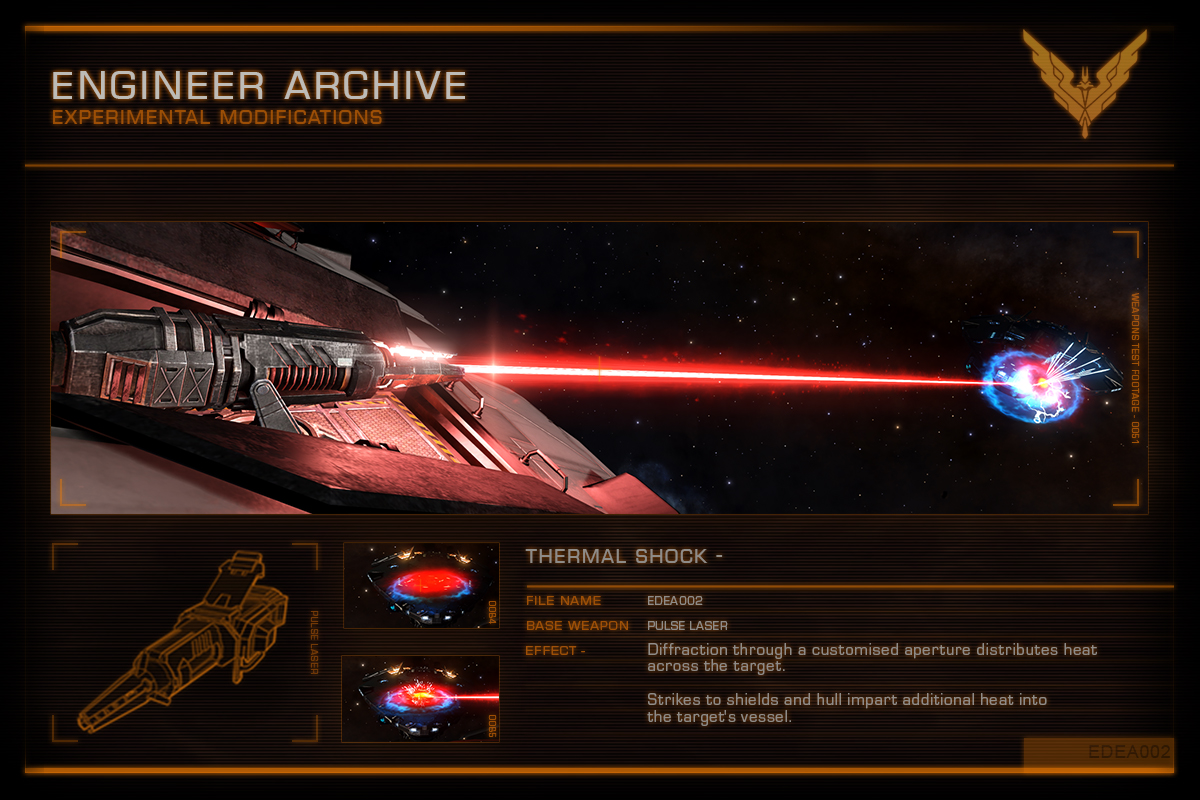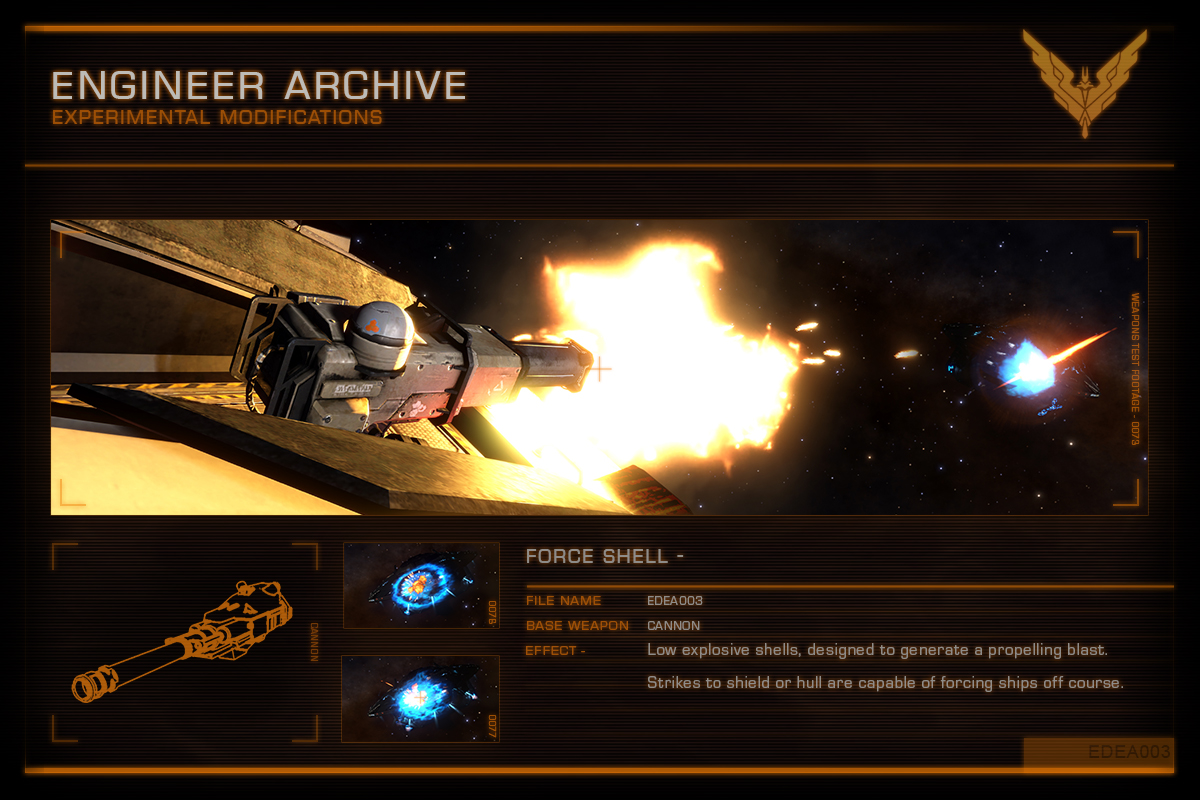 ---
On the Horizon – Countdown to The Engineers Beta Livestream: Part 1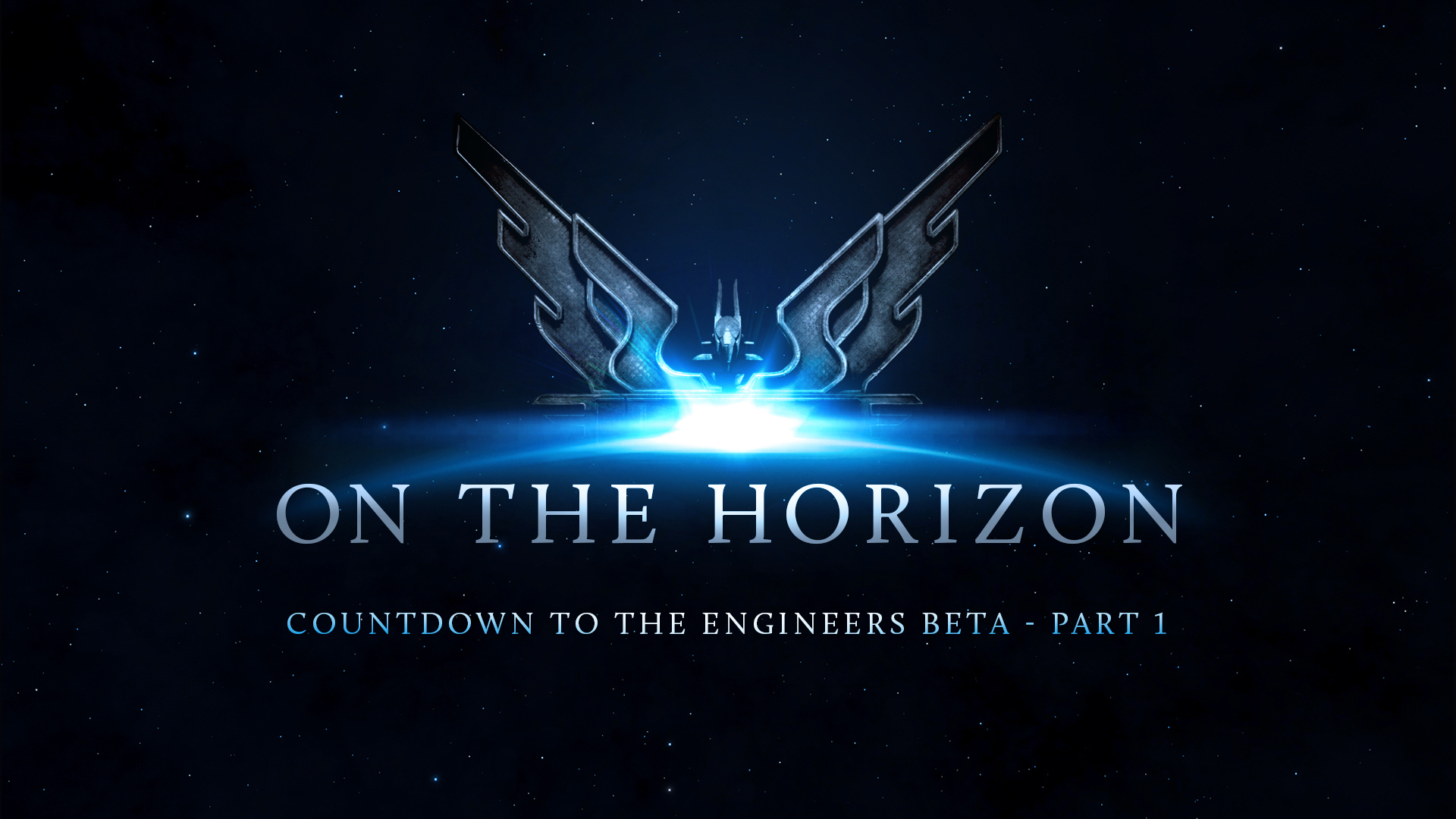 For the first of our countdown to beta livestreams, Community Manager Edward Lewis will be joined by Executive Producer Michael Brookes, to talk through some of the content seen in today's newsletter, and show you some video footage of these features in action. We'll have time for a quick Q&A with Michael about the content shown, so make sure you don't miss out!
Join us on our official YouTube channel at 19:00 BST on Thursday April 21. 
---
The Danger Zone – Xbox One Special CQC and Xbox One Updates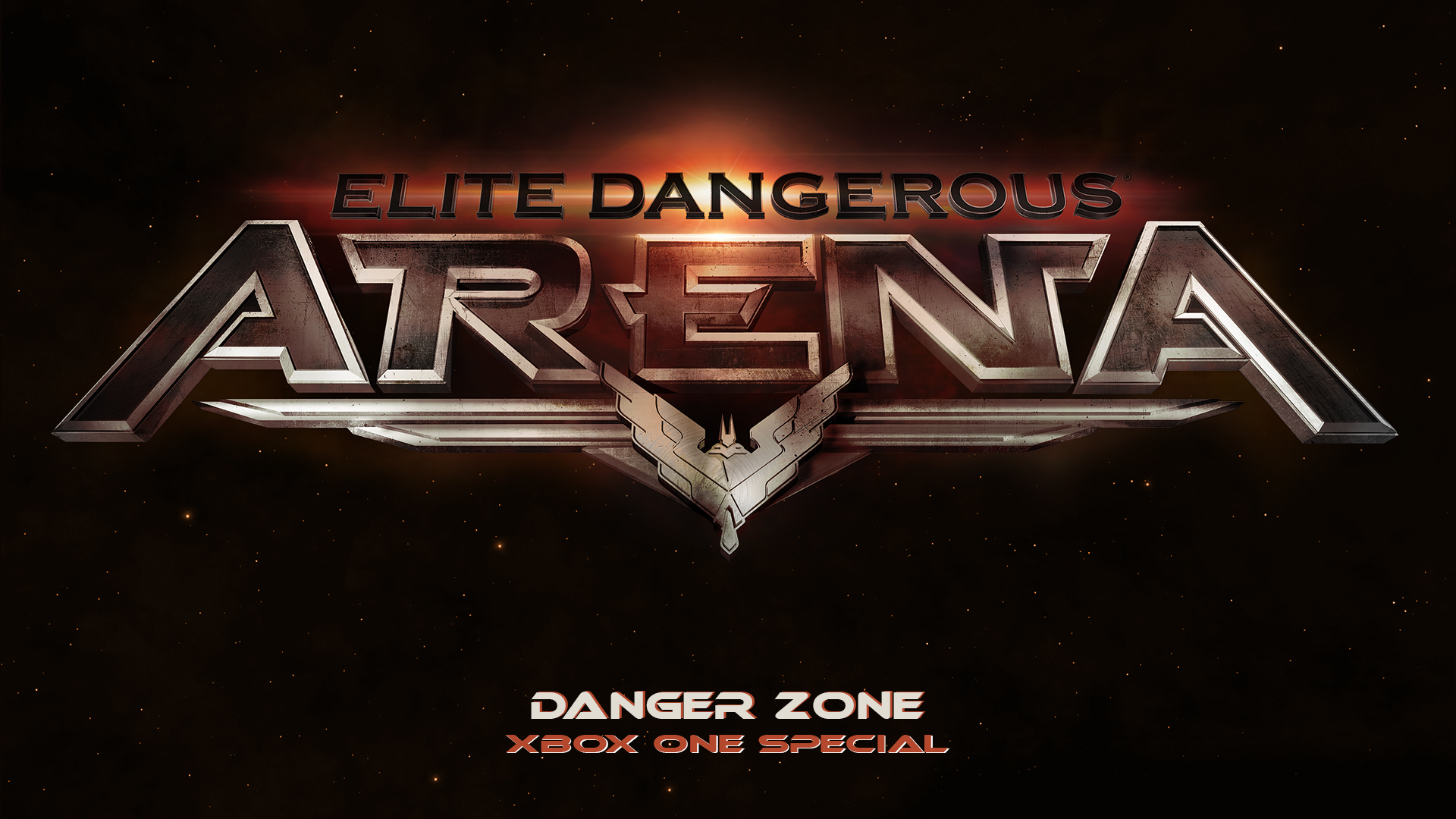 Next week on the Danger Zone we'll be talking to Senior Producer Gary Richards about the changes and tweaks coming to Elite Dangerous on the Xbox One. We'll be demonstrating those changes on screen, and finishing things off with a few rounds of CQC on the Xbox One. So if you're an Xbox One player, join us in-game at 7PM BST… even if you're not, come along and see how the Xbox crowd fare in Arena combat.
Make sure you join us on our official YouTube channel at 19:00 BST on Tuesday April 19.
---
Galnet Focus
Welcome to our weekly roundup of news stories and events in the Elite: Dangerous galaxy.
Federal politician Jacob Harris has claimed that the destruction of Starship One was not the result of mechanical failure, as was widely reported, but the result of deliberate sabotage by Imperial agents. Imperial officials were quick to condemn Harris's claims, citing both his lack of evidence and his reluctance to reveal his sources.
Harlyn Tavistok, a senior member of the Alliance Assembly, has announced plans to establish a new outpost on the fringes of inhabited space. Open orders have been placed for a range of commodities, and the Alliance has promised to generously reward pilots who support the initiative.
Professor Ishmael Palin has announced his intention to retire from the research institute he founded last year. In a statement, the professor said he plans to set up a modest research centre on Maia A 3 a, where he will offer a range of engineering services.
The Morrina Pro-Alliance Party has announced that its campaign to clear the Morrina system of agitators has been a success. Hundreds of combat pilots responded to the appeal, taking to their ships to eliminate the criminals operating in the system.
The United Epsilon Indi Flag has launched a campaign to decriminalise Indi Bourbon, a popular libation that was classified as illegal when the Federation took control of the Epsilon Indi system in 3301. Pilots have been asked to show their support for the campaign by flooding Mansfield Orbiter with rare liquors.
The Canary Mining Corporation has announced that it has received sufficient supplies to carry out its improvement programme at Kooi Gateway. Hundreds of pilots responded to the organisation's appeal by delivering much-needed equipment to the station in the HIP 93377 system.
---
Reddit AMA Series
The Elite Dangerous and Elite Xbox One subreddits continue their joint AMA series this week with a few new guests coming along for you to ask them anything.
Saturday 16th at 6pm GMT on /r/EliteOne:
•ADLE'S ARMADA - The oldest, strongest, and well established Federation-aligned group, based out of legendary Eravate, the Milky Way's most-active star system.
•IMPERIAL INQUISITION - The Holy Order of the Emperor's Inquisition, calls on the faithful to join them to cleanse the Galaxy, protect the Imperium, and the souls of humanity.
Saturday 16th at 7pm GMT on /r/EliteDangerous:
•OBSIDIAN ANT - Representative for the creation of exploratory science station Obsidian Orbital, and daily content creator via his Youtube channel, focusing on ED with Let's Plays, Tutorials, Lore Guides, News, First Impressions, and Peripherals Testing.
---
Community Goals Update
Greetings Commanders, and welcome to this week's community goals blog. If you're looking for a goal, the breakdown below should help:
Bribes for Bourbon:
Mansfield Orbiter, Epsilon Indi -  Smuggle illegal rare liquor into Mansfield Orbiter in Epsilon Indi to bribe officials in the fight to make Indi Bourbon a legal commodity.
Alliance to Establish New Outpost:
Noli Dock, Iyati system - Deliver Robotics, Semi Conductors or Auto Fabricators to Noli Dock in the Iyati system to help in the construction of a new deep space alliance outpost.
Rumours from the Epsilon Indi system suggest that the United Epsilon Indi Flag is recruiting independent Commanders for a campaign called 'Bribes 4 Bourbon'. In a series of illicit meetings with system officials, the organisation reportedly secured an agreement to revise the status of Indi Bourbon and make it a legal beverage.
 Yulia 'The Needle' Kuriakova, a spokeswoman for the organisation, said:
"For almost a year, authorities in Epsilon Indi have prohibited the production of Indi Bourbon, which is classified as an illegal substance. Our plan is to bring vast quantities of illegal liquor Mansfield Orbiter to pay off the officials."
The United Epsilon Indi Flag has requested that Burnham Bile Distillate, Eranin Pearl Whisky, Leestian Evil Juice, and Wuthielo Ku Froth be smuggled into Mansfield Orbiter. A temporary black market has been established to accept these commodities.
The Federation, meanwhile, has asserted that the campaign represents an act of economic malfeasance, and has accused the United Epsilon Indi Flag of inciting civil disobedience. But Epsilon Indi is no stranger to dissent: in November last year an explosive-smuggling operation organised by a group called Revolution Incorporated was uncovered.
The United Epsilon Indi Flag has promised to reward pilots who deliver rare liquors to Mansfield Orbiter in the Epsilon Indi system.
In other news, Harlyn Tavistok, a senior member of the Alliance Assembly, has announced plans to establish a new outpost on the fringes of inhabited space. According to Tavistok, the new station will provide the Alliance with "a vitally important new resource, significantly bolstering our reconnaissance and intelligence-gathering capabilities." An Alliance spokesperson provided further details:
"Monitoring activity within human-inhabited space is of central importance to our continued security, but this particular sector currently contains a limited number of operational outposts. Our new station will address this issue."
"To support this campaign, we have placed open orders via our partners at HIP 55118 General Corporation for Robotics, Semi Conductors and Auto Fabricators. Pilots who deliver these essential commodities to our base of operations at Noli Dock will be generously compensated."
---
Comms Chatter
CMDR Kyp Shard from Canonn sent us this rather interesting and unknown audio track!

Check out the discussion here and listen to the audio below!
CMDR Josh Hawkins continues his exploration series on YouTube, this time with part nine!
O.o indeed. CMDR Chooly Buzzkill found an interesting starformation... it looks a little confused to us!
Oddball1975 from /r/EliteOne went around the galaxy asking 'Tea and cake... OR DEATH!?'
What's comms chatter without explosions!? Unfortunately, ElectricOrangeJuice on /r/EliteOne this past week got stuck between space.... and a rock. The rock won. In worse news, he lost 16 days' worth of exploration data.
---
That's it for Newsletter #120. Please don't reply to this email; this address is not monitored. Instead you can get in touch with us at community@frontier.co.uk with any questions about the newsletter. Please use our support page: http://support.frontier.co.uk if you have any support-related queries.
Until next time, fly safe and Right On, Commander.
The Frontier Team