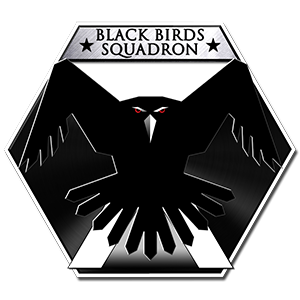 The Wildcard phase of the Dangerous Games is now underway... to help you decide who to help get in to the Dangerous Games finals, and be in for the chance to become a power in Elite Dangerous, we're running a series of community spotlights all about the Wildcard groups. 
Note - the winner of the Dangerous Games would work with our developers to encorporate their Power into the game... the lists supplied below in this interview are just the wishes of the group, and not what the final benefits they would have if they were to make it through the Dangerous Games.
Community Spotlight: Black Birds Squadron
---
Where does your group come from originally?
Around 2870, during the war against the Thargoïds, rich manufacturers and traders coming from the Alliance, Empire and Federation, decided to create a secret group of lawless mercenaries, and to give them unlimited money and support. They expected results against the Thargoids, who represented a major threat to humanity... and to their own interests.
That was the origin of the Black Birds Squadron. The worst hamstring-cutters all over the Galaxy were recruited in prisons, and these pilots risked their lives to earn huge amounts of credits.
They gradually became expert in extreme combat situation - elite pilots, especially dangerous since they were hidden.
In May 3245, they have been outnumbered by a technologically advanced enemy. The Black Bird's Head Quarters, whose name was "The Nest", was destroyed; Samson, their main base, fell into the hands of the Thargoïds. Within a few years, Black Birds' History was no more than a legend. But the group manage to secretly survive.
In March 3301, Unknown Alien Artefacts were discovered. It was time for the Black Birds to rise from its ashes to carry out its duties once again: defend mankind againts the alien threat (thargoids or not).
What is your group all about? What are your fundamental goals?
Reckless combat against Aliens is rooted in the Black Birds Squadron's DNA. We do fear pain or death. According to a legend, when a Black Bird pilot dies and is not missing in action, his corpse is placed in his cockpits'ship and the others Black Birds shoot at it. A Black Birds has to be killed in action, and must not die elsewhere.
Everything in our group is about fighting against the alien threat. As we say from the beginning: "we are the Black Birds. We are the Frontier between human being and aliens. we are the dark and dangerous keepers of this wall".
Do you have a narrative around your group?
Everything that we are doing in game is RP-based. Story-telling is everywhere: events in the Black Birds controlled systems, Galnet news, official missions. The storyline is recorded on our website. We try to shape our stories so that they fit with the official Elite Dangerous lore. If you are interested, chronicles are available on our official website (now only in French, later in English).
Why should you make it to the final of the Dangerous Games? Why should people help you in the games?
The choice is clear: when you support the Black Birds, you prepare to struggle against a possible alien invasion. Our pilots are mercenaries, but they have been chosen for their combat skills. They are not afraid to make the ultimate sacrifice for our cause. When some people are satisfied with analysing the menace, the Black Birds fit their ships and chose weapon loadouts, with the help of the Technodons, unpleasant but awesome mechanists.
If you're a trader worried about your cargo, or even an explorer anxious about your hard-to-find datas: do not hesitate to trust the Black Birds, they alone will protect and save you from your enemies.
What would it mean to you and your group if you did make it in to the final of the Dangerous Games?
It would be a surprise but also the proof that David can defeat Goliath, as it is written in an ancient book from Earth. We are small and independant but we have the will and the strenght of a giant.
If you were to become  a Power, what sort of power would you be?
It would be a weapon designed by our scientists to defeat thargoids but effective against human technology as well. Our lab in Shangdi has gathered Alien artifacts and uses them to create special ammunitions. These little ones can go through ship hulls and disrupt internal modules. But beware, il you use them too long, they could have side effects on your modules too. As we say in French "aux grands maux les grands remèdes", that means "desperate times call for desperate measures".
Who would you support if you were going to support someone else in the games?
We are the Black Birds, we are independent and opportunist pilots. We'll choose the ones who'll serve primarily our own interests. In the past, we already have received support from other factions, for example during the construction of Obsidian Orbital, in Maia
If there's anything else you want to tell the community about, now's the time to do it… 
We are a group of passionnate gamers who enjoy playing Elite, fighting and telling stories. If you share this passions with us, you are welcome to join us give your support to the Black Birds Squadron. Do not hesitate to visit our website and our forum (some of us can speak English). There is still a lot of secrets to find about us, and about the formidable French Coalition.